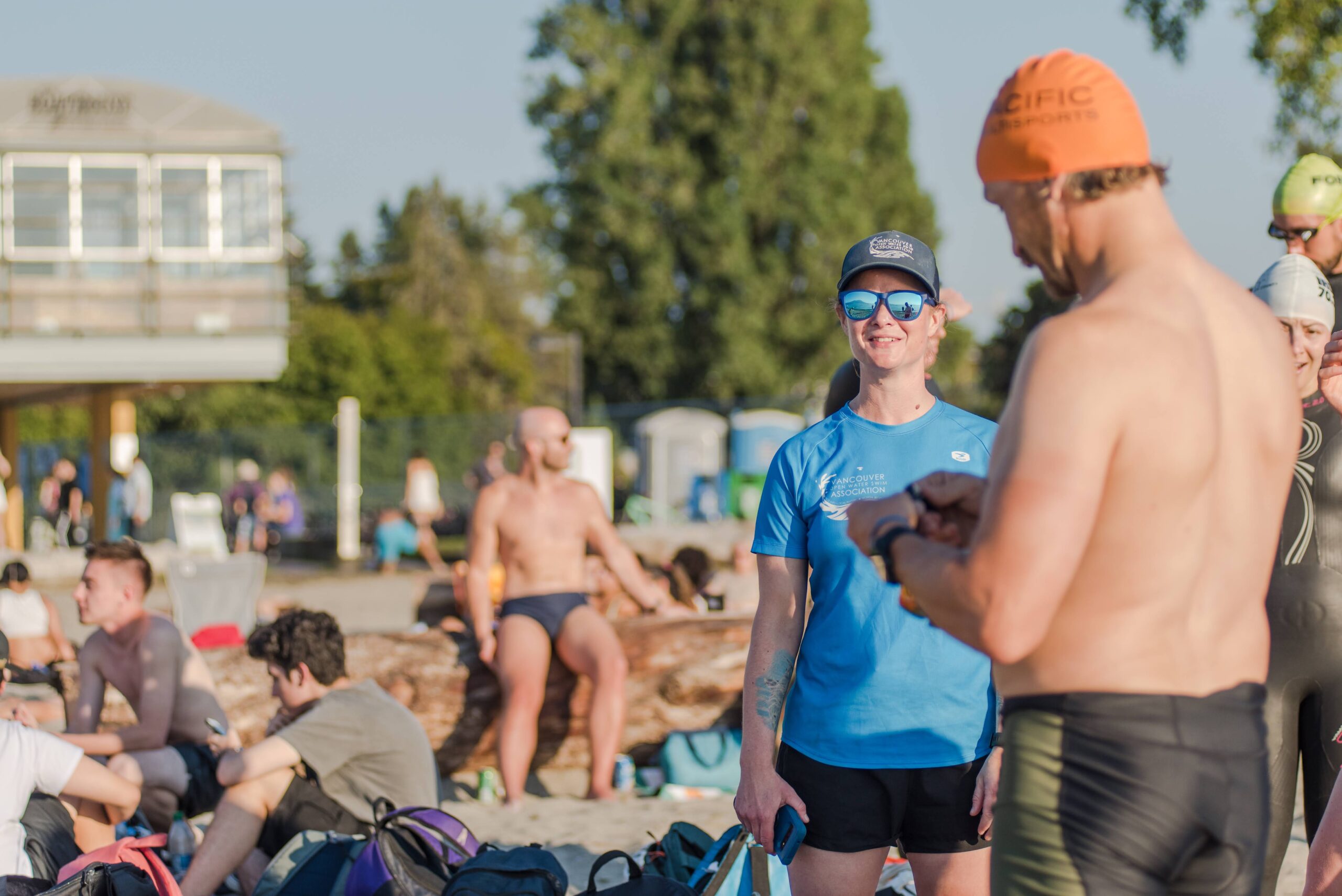 About
All are welcome to join us for our practices at Kitsilano Beach. Swim practices involve swimming with a group while being watched by lifeguards in boats who are there especially for us. These swims with lifeguard support make ocean swimming easier for those who want to try it and to meet other people who love open water swimming.
Whether you are a seasoned open water swimmer, regular pool swimmer, triathlete, or just enjoy our local ocean, come try it out. The course we do is 1500m but you don't have to swim the whole distance. We have 1.5 hours of lifeguard service, so you may do more than one lap.
Covid-19 Reopening Efforts
We are planning a (mostly) regular season and hosting swims on Monday and Thursday this summer. Tickets are limited due to lifeguard shortages. See Eventbrite for details.
These rules apply:
Pre-registration only
Pre-payment only
No drop-ins
No on-beach payments
No transfers to other people or dates
We have adjusted our refund policy while our numbers are limited. If you are registered and can't make the event, please message before 4pm the day of the swim to cancel. We will refund your ticket (but not the $1.38 processing fee) and put the ticket back up for sale.
(There is no waitlist – we tried it and it was just too hard to manage.)
Register
For technical problems with registration please contact website@vowsa.bc.ca. The website coordinator will respond as soon as she can and asks that you kindly remember she is a volunteer. 🙂
Cancellations
If you register and want to cancel, you can use your confirmation email and use the Cancel link.
If you registered and can't remember which dates you registered for, please look for an email titled "Order Confirmation for Practice Swims" from noreply@order.eventbrite.com. You can also log into your Eventbrite account to see your tickets.
If VOWSA cancels a swim due to poor water quality, we will announce it ahead of time by sending an email to all the people registered for the swim. We will refund all the registration fees. You can find the water quality reports on the Vancouver Coastal Health website.
Registration Fees
| Category | Fee |
| --- | --- |
| Single practice swim | TBD |
Safety is Our Priority
At each practice swim, you must sign-in at the registration table prior to the safety briefing. Equally as important: you must SIGN OUT immediately upon finishing your swim.
This is for your safety. We must be able to confirm that all swimmers going into the water made it out safely. If you forget to sign out, we will contact you and you will have to come back to the beach to sign out in person. Refusing to return or ignoring this safety rule results in being banned from our practice swims and race events.
Swim Course
The swim course circles Kits Bay inside of the powerboat exclusion zone and averages 1.5 km for the full circuit. Movement of buoys due to tides and snags will alter the course over the season.
Location & Time
Sign in starts around 6 pm.
Swimmers must be signed-in by the 6:15 pm safety briefing.
A first-timers briefing is given after the 6:15 safety briefing where you can ask questions and learn about the course.
After the safety briefing we move down to the beach and put our stuff near the lifeguard tower.
Swimming start once the lifeguards are in the water. This is normally at 6:30 and lifeguards must be in the water to swim.
VOWSA lifeguard supervision until 8:00 pm.
You must finish swimming by 8pm.
Sign-in can be found by the Kits tower, and the Boathouse restaurant, by the BIG tree.
Waiver
To register, you must accept the practice swim waiver. This will be done online, during the registration process.
What to Bring
A parent or coach if you are under 19 with your assumption of risk document
Brightly coloured swim cap (not white)
Swim suit
Wetsuit (not mandatory but a really good idea)
Whistle (not mandatory but a really good idea)
A warm change of clothing for post swim
You should be comfortable swimming 1000 metres (40 laps in a 25m pool) and have all the recommended safety items.
Water temperature in English Bay varies over the season from about 14 C at the start of June up to a high of 20 C near the end of August. Upwellings of colder water around the course can be refreshing on a hot day, but we do advise wearing a wetsuit both for warmth and flotation.
Wetsuits are not mandatory for practice swims (though most people wear one). You MUST inform the VOWSA practice supervisors that you plan to swim without a wetsuit when you sign in for practice.
Facilities
Change rooms, washrooms, cold outdoor showers, concession stand, pay parking lot (very limited free on-street parking).
While swimmers may pile their belongings near our sign-out spot, VOWSA admits no liability for anything that may happen to your belongings.
Wetsuits
Still have questions?