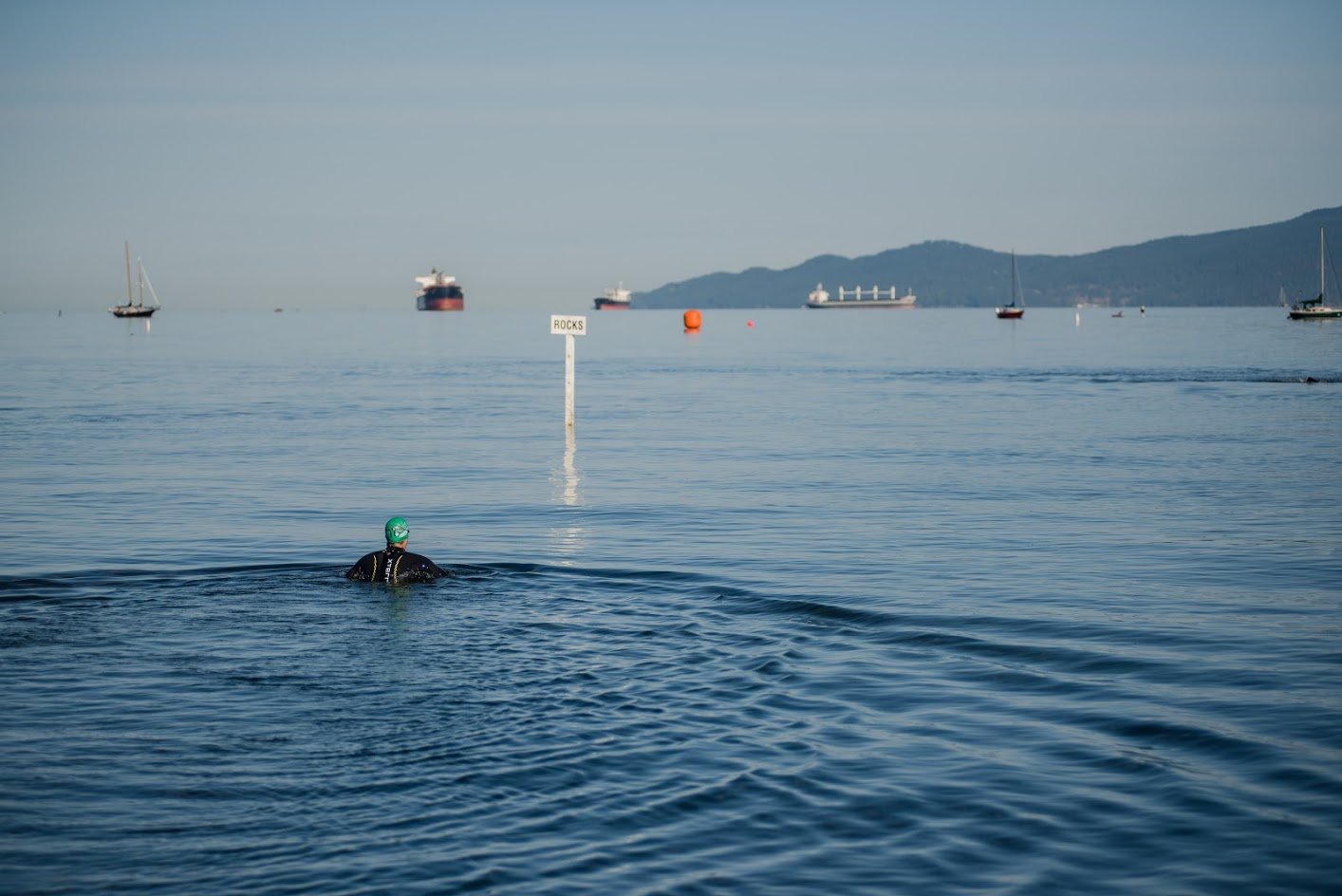 Race Date: August 20, 2023
Location: Locarno Beach
Distances:
10k -
Course Map
We are very excited to announce our new race this season. It's been months in the making and we hope you think it's as good as we do! One of our goals was to keep the spirit of the Bay Challenge alive with a new marathon option. This route gives you a marathon distance, the scenic views of Vancouver, and an accomplishment worth bragging about.
The Course
Around The Bay Challenge will start and finish at Locarno Beach. There are three legs to this counter-clockwise 10km swim:
Locarno Beach to Kitsilano Beach 3.6 km

Kitsilano Beach to Ferguson Point 2.3 km

Ferguson Point to Locarno Beach 4.1 km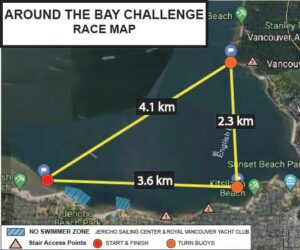 VOWSA will provide each swimmer with a Support Craft Person (a kayak and kayaker with minimum Paddle Canada Level 1 Certification) and there will be motorized spotter boats to monitor the course during the event.
Registration
Cost is $265 with kayak support included.
Prior to registration, interested swimmers must submit witnessed proof of swimming ability and pace. This is a 2 hour swim with a pace of 3 km per hour in a pool (without a wetsuit) or 5.3km in 2 hours in open water (with or without a wetsuit), or proof of completion of a similar event or solo swim. If you are submitting a pool swim as a pace qualifier, you must also show evidence of some previous open water swimming, preferably in the ocean.
This swimming must be within the last 18 months. GPS watch tracking may only be used to supplement your submission.
If you plan to swim without a wetsuit, please also submit witnessed proof of a continuous swim for 2 hours with temperature of 18 degrees or lower.
Please email links to your events, or witnessed proof of requirements, along with your registration request. Registration requests without these requirements will not be approved.
Alternatively, it's strongly recommended to attend one of our VOWSA practices on Monday or Thursday evenings at Kitsilano Beach. Email ahead of time to book a volunteer to observe your swim.
Registration is limited to 25 swimmers. Spots are first come first serve, so once you are approved to register for the race, we suggest doing so without delay.
Registration deadline is August 6 at 11:55pm PDT or as soon as the race is sold out.
For questions or to submit your registration requirements for the race, please email bayrace@vowsa.bc.ca
Refund Policy
Entry fees will not be refunded in their entirety and cannot be transferred; however we will provide a partial refund of $100 if we receive an email request by July 9. No refunds of any kind or for any reason after July 9.
The Schedule
Race day check in:
5:45 am – Check-in begins

6:30 am – Check-in closes

6:45 am – Kayaks at Locarno start buoy

7:00 am – Race start time
Mandatory Pre-race briefing:
Location: in front of Locarno Beach Park/Concession
Date: August 19th, the evening before the race. All swimmers must be present as well as the kayakers.
The cut-off
Swimmers must be within 500m of Ferguson Point buoy no later than 9:30am. The race has a 4 hours and 15 minutes time limit. Swimmers MUST complete their swim no later than 11:15am. If swimmers have not met this cut off, a spotter boat will pick the swimmer up and bring them to Locarno. The kayaker must return to Locarno as well.
Preparation
This is a wetsuit optional race. Ocean temperatures may range from 14°C-22°C (57°F – 72°F) throughout the swim course. Wetsuits and neoprene swim caps are strongly recommended for cold-water swimming. All swimmers have the option of wearing a STB during their swim. STBs are defined as inflatable buoys tethered to the waist of the swimmer.
Due to permits, VOWSA and our Lifeguard & Medical Advisors have established a 4 hour and 15 minute time limit for completion of the course. This policy must be strictly adhered to. Swimmers who have not completed their swim after this time will abort their swim by being collected by a Spotter boat and brought to the medical team at the finish line. Swimmers who do not follow the direction of the lifeguards, medical advisors or race directors, with respect to this policy, will be disqualified.  VOWSA also reserves the right to remove any swimmer and kayaker from the race at VOWSA's sole discretion who appears incompetent, in medical distress, or acting in an unsafe manner.
The tidal activity in English Bay can significantly push up a swimmer off course in the 10km for this race. The estimated minimum swim distance a participant may swim is 10km which equates to an average pace of 2:42 minutes / 100m in current neutral open water. In order to make the cut-off time, swimmers must be able, at a minimum, to swim 3.0 km in 60 minutes in a pool (without a wetsuit in the pool) or 2.65km in 60 minutes in open water.
Weather and Water Quality
VOWSA reserves the right to reschedule or cancel events if water conditions are unsafe. VOWSA reserves the right to refuse entry based on safety or health concerns or previous violations of official rules.
The following links can give an idea of typical weather and water quality:
Results