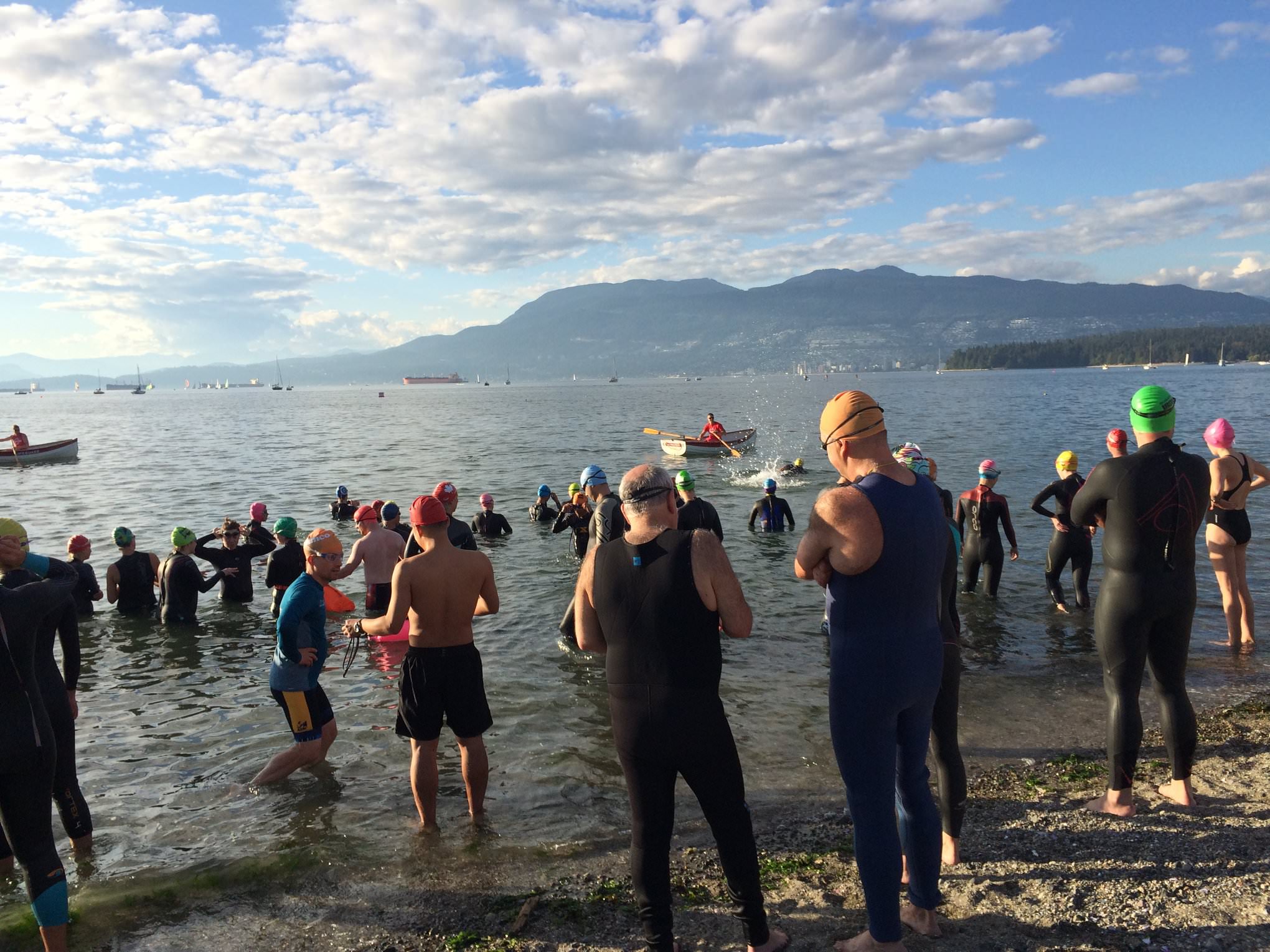 FAQs
Here are some frequently asked questions we hear from first-time practice swimmers.
Am I Ready?
I'd like to come swim at a practice swim, but I'm new to open water swimming and I'm not sure if I'm ready.
You should be comfortable swimming 1000 metres (40 lengths in a 25m pool) before attending a practice swim. After the safety briefing, come and chat with VOWSA volunteers to ask any further questions. You don't have to do the full 1500 m course. You may simply do a portion of the course and swim back to shore, as long as you are not swimming directly back into the pack of oncoming swimmers. Once people have done their first few ocean swims, they tend to love it.
I'm a little terrified. I'm used to pools.
The key difference is that you really cannot see much underwater. You become accustomed to this. But it means that you must try to see where you are swimming by lifting your head without (ideally) interrupting your swim stroke.
We look for things in the distance to keep our bearings; you do not want to be swimming in a zig-zag pattern and doing extra distance if you can avoid it. During the practice swims, we follow the lifeguard boat (or each other) and sight off the sometimes-hard-to-see red/orange buoys that mark our course, a particular cut in the North Shore mountains, or the willow trees as we head back to shore.
It will be colder than a typical pool, which takes some getting used to. It helps to spend a few minutes acclimating and dunking your head before setting out with too much adrenaline and shallow breathing.
Coaching
I'm new to open water swimming and I'd like some coaching – is there a coach at the practice swims?
There is no coach at our practice swims. Practice swims are self-paced and self-directed. VOWSA volunteers may be able to connect you with a swimmer who swims at your pace.
However, you should be prepared to swim on your own and at your own risk. For that reason, it is good to have a whistle easily accessible. It alerts lifeguards faster than a shout.
You can search for open water swim coaching Vancouver to find coaching options.
Finding Swim Friends
I don't know anyone.
Trying a new activity can be daunting, but there are a lot of other people just like you. We suggest:
Come and try it, even if you don't talk to anyone. Swimming in the open water is a relief from our everyday stressful lives.
If you see someone standing alone, strike up a conversation, with questions like, "How long have you been open water swimming?" or "Did you enjoy your swim?" or "How do you swim straight?"
Reach out to our executive to ask any questions.
Social events happen throughout the summer. Keep an eye on Facebook page.
Organize a social activity after a practice swim. The executive can help you.
Volunteer for VOWSA, either casually at a race or on the executive committee.
Can I swim alone?
No, you should not swim alone.
I want to open water swim outside of VOWSA. Where can I find people to swim with?
You can find people at the practice swims – feel free to introduce yourself and ask people to swim with you. You can also go to the Vancouver Open Water Swimmers Forum on FB and ask. It's a group moderated by VOWSA (though it is not our group – we moderate it to make sure there are no weirdos on it).
Ages
Is there an age restriction for practice swims?
All participants are welcome, but swimmers under the age of 19 will need a parent, guardian or coach to sign a waiver before they are permitted to swim at a VOWSA practice swim.
Wetsuits
Do I have to wear a wetsuit?
Wetsuits are not mandatory for practice swims, though most people wear one for warmth and flotation, but you must inform the VOWSA practice supervisors when you sign in that you plan to swim without a wetsuit.
Swim Fees
Why is there a fee for practice swims?
VOWSA is a volunteer-run, not-for-profit organization. Your fees go towards paying the extra lifeguards who monitor our swimmers during our practice swims, and towards the private recreation permit from the Vancouver Parks Board. For more information on the private recreation permit, please visit the parks board website.
Late Arrival
Can I arrive late to a practice swim?
No. Swimmers must be present for the safety briefing at 6:15 pm and should be ready to swim at 6:30 pm. We prefer to have everyone start at the same time so there is one large pack of swimmers for the lifeguards to monitor (although people will spread out over the course).
Out of Town Swimmers
I'm from out of town. Can I join you?
All swimmers are welcome to join, even those from out of town. Please review the information on this page and the practice swim page.