Everything—everything!—changed last spring. Images coming in from remote places showed empty streets and Italian mayors berating citizens for being outside. "Unprecedented" became over-used.
Just over a year ago, I went to the Vancouver Aquatic Centre for an afternoon swim and cautiously asked if they were still below the 200-person limit in the building and could I swim? The person at the counter:
"Yes, you can swim but we're shutting down at 4:00pm."

"Wait…'shutting down'?"

"Completely."
The daily explosion of predictability is what I recall from those early days.
At VOWSA, we asked ourselves: could we have some version of our practice swims? Could we—as per the new rule—keep people 6 feet apart? Could we successfully limit our practice swims to less than 50 people? Too much uncertainty, too much danger, and we would be encouraging people to gather. So we cancelled the entire VOWSA season.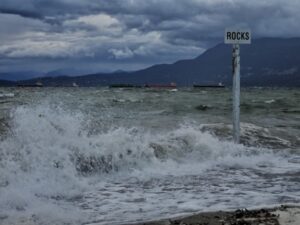 Then we sought to simply promote safety in open water swimming: never swim alone, use a Swim Buddy, know your water.
And so I asked: how was your 2020 swim season? Some people said they didn't swim for "many months." But a fair number of people decided that their open water swim season simply had to start earlier: "…after Covid-19 shut down all swimming pools, open water is the only place I can swim. Started open water swim in May, earlier than previous years," said one person. "Started earlier (April) due to pool closures and it is going longer," said another.
One person gushed: "I had only ever done a little open water swimming before, in preparation for a triathlon. When COVID hit, I missed pool swimming so much and I live 5 minutes walk from Kits beach, so I thought I would brave the ocean and fight my fears! So since April/May I've been swimming in the ocean 1-3 times a week and I LOVE IT! I went from swimming to one buoy to doing the full Kits buoy loop. I also love how open and welcoming everyone in the water is, and happy for an extra buddy to join a swim (socially distanced of course). I would say it's made a huge positive impact on my life!"
A very experienced swimmer noted that their 2020 swim season was "pretty much the same as always" and that they swam "15-20 km a week in the ocean mostly by myself." (Note that we encourage people not to swim alone.) Another person did not break their stride: "I swam a lot! Morning, afternoon and evening. Sometimes 2 a day swims. It was awesome!"
It helps when you can find company: "I had trouble finding a group of friends to swim with regularly but once I found a small group, I realized how much I had missed open water swimming. This year, it was like every open water swim was a gift. I've felt this in previous years at VOWSA swims when we have interesting conditions and/or a really calm night. But this year, every swim was special." Some people have connected on Facebook.
But it seems that being part of a larger group was special, noticeable by its absence: "Missed the [VOWSA] races. It was a lot more hassle to get out swimming without the group inspiration." Indeed. Said another, "I missed having races/events to prepare for this summer."
I asked what people were planning as we headed into winter. "Decided to focus more on cold acclimatization so I'd be able to have a swimming option for more of the year and less on pace and performance." Ah yes: Cold Water Swimming. VOWSA put on a webinar in the fall on this topic (now on Youtube) and it was very well-attended.
"I hope I can continue open water swimming in winter. Already have low temperature swim gear ready—neoprene cap, gloves, and socks."

"[I will move from Buntzen to Sasamat] where I hope to make at least mid-December (fingers crossed)."

"Still mostly in the ocean at Jericho. I have been to the pool twice so far and will likely return more as it gets colder and my open water swims get shorter."

"Kits beach, with a torch in my swim buoy and neoprene everything :)."
Others went further afield: "Swam mostly in Sasamat, but the crowds and [temporary] poor water quality led me to try a few other local lakes (Rolley, Alouette)." This person went on to try a SwimRun in Victoria, which was also new. "I also started looking into SwimTrek as a possibility for swim-focussed vacations…"
Someone who works downtown had this to say: "Fluctuating water temperatures at Buntzen made swimming interesting this year. I swam in English Bay a bit, but always a little awkward packing my gear in and out of the office, locking the bike at the beach and so on. Not to mention an incident with personal watercraft coming into the swim zone."
Remote work allowed one person to swim at Savary Island after work: "Not as social and well-organized as VOWSA but marine life was fantastic and sometimes really noisy. Tides, currents and creatures made it interesting for the swims every other day."
And what about pools, once they re-opened? The restrictions did not feel great, said a number of folks; for example: "it would be greatly appreciated if City of Vancouver would make longer sessions available, arrange 50m pool configuration when possible instead of just 20.7m, and bring back the monthly pass…"
Another person positively longed for the pool: "I missed the chlorine and flip-turns (old competitive swimmer in me)…but it is not the same as what I used to do (a Master's group via local swim club…)…it requires more planning to register and swim during the available times (very limited). I've also purchased stretch cord w/ paddles to use and maintain some strength."
One person just HAD ENOUGH: "I can't stand swimming for only 45 minutes a day, so I'm going to stay with my parents in San Diego where I can swim in the ocean all year because it is warm."
But feeling connected to open water swimming—even remotely—helps. Said someone: "…[it is] very inspiring to see others having so much fun swimming all over the world in Facebook groups like VOWSA, Slow Swimming, and Swimmers over 60."
As we head into a new open water swim season that remains uncertain if more hopeful, I will leave you with this comment: "Will continue in the ocean, as it is very satisfying. It is so beautiful, and the community is wonderful. It is very special. I may try to get into a swimming pool, but I really enjoy the open water and the challenge of swimming all year long outdoors is one I am willing to accept!"
VOWSA President 2020-2021