Bay Challenge
Race Information
Race Date: Sunday August 9th, 2020

Race Start Location: Sandy Cove Beach, West Vancouver BC
Race Finish Location: Jericho Beach, Vancouver BC
Distance: 8 km (Solo and Relay option) – Course Map / Prior Track
NOTE:
All Bay Challenge solo swimmers and relay teams are required to have their own support boat.
The Bay Challenge is a wetsuit mandatory race.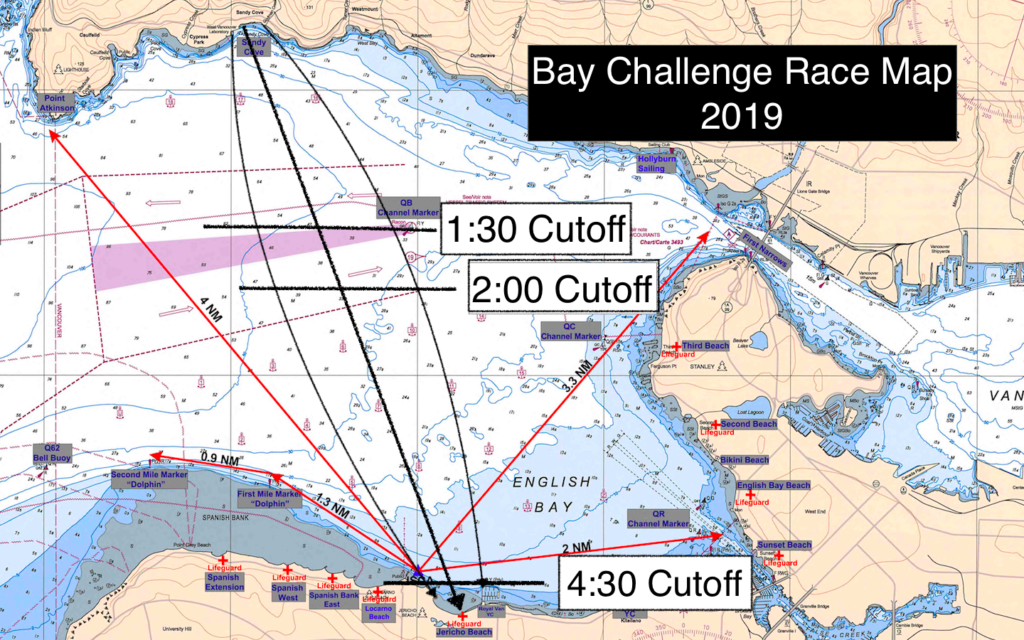 For questions about the race please contact bayrace "at" vowsa.bc.ca
Check out this video from the 2017 Bay Challenge to get a sense of it all! Thank you to Randy Mennie for creating the video.
Pre-Race Preparation
Crossing English Bay is a significant physical and mental challenge! All race participants must abide by the safety policy in full.
Tidal and weather activity within the Bay can significantly increase the distance and time you are required to swim. Water temperature can vary over the course depending on the season; swimmers should expect and be prepared for temperatures between 12 C in the channel and up to 22 C near the finish.
Swimmers are required to stay within the bounds of the course path for swift support response. Note the cut-off point to clear the ingress zone is past the shipping channel marker (See Safety Policy) at ~3km into the race ideally swum to swimmers left.
Swimmers will be required to submit proof of swimming ability to VOWSA prior to registration cut-off. All records must be from 2019 or 2020.
The distance trial log may be submitted digitally to BayRace "at" vowsa.bc.ca, physically to one of the practice swims, or via snail mail PO Box 5063 Stn Terminal, Vancouver, BC V6B 4A9.
This must include at least one of:
A completed 1 hour distance trial (Link)
A timed completion of 2 laps of the Kitsilano course at a designated VOWSA practice swim
Results from a 3 km+ open water swim race.
To adequately prepare yourself for the challenge of completing this race you should be comfortable swimming 1 hour continuously for a MINIMUM of: 3.3 km in a pool (approx. 1:50 min/100m pace) or 3.0 km in open water (a 2:00 min/100m pace).
These minimums are in no way a guarantee of completing the course prior to the race cut-off deadline. As stated, changes to meteorological conditions on the day of the race can significantly increase the ~8km total distance in 4h30m (at minimum a 2:49 min/100m pace). Pace times from the race have been on average 22-60% slower than submitted.
If you have any questions regarding these or any of the policies governing this race contact the race director.
Pre-Race Meeting Information
All swimmers and support crew MUST attend the pre-race meeting. Boat pilots will be required to produce a Canadian Boating License, as required by Transport Canada. Check here for more information.
Date: Saturday August 8, 2019
Time: 4pm
Location: Kitsilano Beach – Map
We will review the course and safety/emergency procedures in detail, and you will receive your race package and race numbers.
All swimmers will sign a waiver and a $700.00 indemnification for the VHF radios VOWSA is providing.
Remember to bring your dry bag to the pre-race meeting. Your dry bag will be securely stored overnight (if we do not have it, you will not have a warm change of clothes at the finish line!)
Safety
For an overview of the event details, please review the Bay Challenge – Safety Policy 2019. (This will be updated in 2020.)
NOTE: Every boat operator MUST have a on board a VHF radio, boater's licence (PCOL) and Transport Canada approved Equipment. Failure to comply with any of these safety requirements will result in a disqualification from the race.
If you unsure about any of these requirements, please review the Bay Challenge Safety Policy prior to emailing BayRace "at" vowsa.bc.ca with the subject line: Bay Challenge Safety Requirements
Cut-off Times
There are 3 safety cut-off points marked on the map in the 2019 Safety Policy Appendix I. If a swimmer fails to achieve any of these, they will have to abort their race.
The first is a 1.5 hour limit: From the time the race starts to pass the mid-ingress zone yellow marker buoy line as it extends from the tip of Stanley Park. The distance to this mark is ~3km; to achieve the 4.5 hour limit you should expect to reach this mark in less than 1h15m however an additional buffer is added to account for the tidal inflow conditions aiding swimmers past this mark.
The second is a 2 hour limit: From the time the race begins we are permitted this length of time by harbour authorities to clear the ingress path for deep water vessels illustrated on the Safety Policy map. At the 2 hour limit if the swimmer has failed to pass the marker buoy they will be instructed to pull their swimmer and transport them to the race finish to be reviewed by VOWSA medical staff.
The third is a 4.5 hour limit: From the time the race starts to make it inside the white markers at Jericho Beach. When this time elapses any swimmers remaining outside the white markers must exit the water and return immediately to the race finish to be reviewed by VOWSA medical staff.
Registration
Link pending
Registration closes 1 week in advance of the race date (Sunday, August 2 at 11:55 pm PDT)
Only 25 swimmers may enter (relay teams are considered 1 swimmer).
For technical problems with registration please contact president "at" vowsa.bc.ca
NO LATE REGISTRATION & NO REGISTRATION ON DAY OF RACE.
2020 Registration Fees
These registration fees are from 2019 and may change once reviewed by the 2020 Bay Challenge Executive.
Category
Entry Fee
Bay Challenge SOLO
$120.00 (includes radio rental)
Bay Challenge RELAY (2-4 people)
$170.00 (per team, includes radio rental)
Only the team captain registers – other team members will register at pre-race briefing
Please note all credit card payment transactions include a 2.9% surcharge plus a fixed fee of CAD 0.30 for credit card processing.
Race Schedule
Check in times
6:30 am — Check-in begins for Solo & Relay participants
6:50 am — Check-in closes for Solo & Relay participants
Failure to check-in during the appropriate check-in period will result in entry cancellation.
Race Start Times
7:00 am — Solo men's start
7:03 am — Solo women's start
7:06 am — Relay start
Start times are approximate and may be delayed.
Wetsuits
The Bay Challenge is a wetsuit mandatory race.
Don't have a wetsuit? Talk to Team Aquatic Supplies.
Race Waiver
You MUST fill in a race waiver for this event. Please download the waiver, fill it in, and bring it to the race the day of. Those under 19 years old MUST have a parent sign the form. We will have extra forms at registration.
No waiver? No race.
VOWSA WAIVER 2020 – Bay Challenge
Boat Rental
This information is from 2019 and may be updated in 2020.
Need a support boat for the Bay Challenge? Granville Island Boat Rentals has been renting boats to Bay Challenge swimmers for years. You can reserve your boat today by calling their office at 604.682.6287. Let them know that you will be participating in the Bay Challenge with VOWSA and they will make sure you are ready to go for race day. They will be opening at 5:00am on race day to accommodate our swimmers. More info here.
Additional Information
Sandy Cove and Jericho Beach Water Quality Report
VOWSA reserves the right to reschedule or cancel events if water conditions are unsafe. VOWSA reserves the right to refuse entry based on safety or health concerns or previous violations of official rules.
If you have any photos of the race and would like to share them, please email President "at" vowsa.bc.ca
Results
Here's a list of all the results from 2009 onward.
Photos
Bay Challenge 2017
Bay Challenge 2016 (photo credit Diana Domai)
Bay Challenge 2015